Case Study - Ecco Gelato
When Chancellor George Osborne introduced Pension Freedoms in April 2015, Andrew and Philippa Tarling could not have imagined this would spark a new career as luxury ice cream makers.
Ecco Gelato
When Chancellor George Osborne introduced Pension Freedoms in April 2015, Andrew and Philippa Tarling could not have imagined this would spark a new career as luxury ice cream makers.
But, with the help of Morgan Lloyd, two family windfalls and 25 years' experience in the pub trade, that's exactly what happened to the couple who have joined the new wave of olderpreneurs.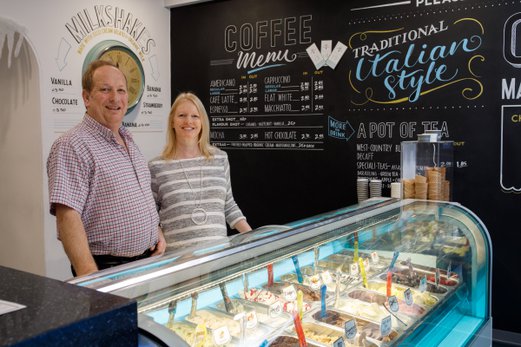 Both Andrew and Philippa had plenty of financial acumen, having left successful roles in the City with major independent banks before taking on a country pub in Horsington, Somerset.
Although successful, with the UK's pub trade in decline the couple knew they would have to diversify and were looking to offer food. After reading about a publican in the North of England offering Gelato, Andrew sent Philippa on a 'taster' course at the UK headquarters of Carpigiani, the world's largest supplier of gelato making machines.
No ordinary ice cream
For the uninitiated, gelato is ice cream made the Italian way, with only the best milk and ingredients and is lower fat than regular ice cream. For vegans, there's sorbetto which, according to Philippa, tastes just as good as the milk-based version. But making gelato comes at a price.
We thought we could just buy a machine for about £3,000, set it up in the pub and go from there. But, unsurprisingly, it wasn't that simple, Andrew explains.
It was clear there was a lot more involved in making top quality ice cream and it was going to need the best machinery and stand-alone premises. The costs quickly escalated.
No ordinary funding
The Tarlings saw their pensions as an opportunity to expand their horizons but, rather than simply cash them in, they sought an approach. They met with Clifton Asset Management and recognised that using their pensions was the solution.
Philippa's pension plan – a defined benefits scheme that had closed in 1996 – had previously been valued at nearly £90,000. But in the subsequent 14 months, that value had almost doubled, thanks to the collapse in interest rates. According to Philippa:
That made the decision to set up the gelato business easier, because we could buy more, better quality equipment to allow us to produce higher volumes.
The pension pot was placed in a SSAS set up by Morgan Lloyd which allowed the Tarlings to back their own business. Their pension scheme loaned them £75,000 secured against the gelato machinery, along with £40,000 in cash from two windfalls. The Tarlings decided on an interest rate of 12% so that the loan could be paid back to the pension fund more quickly, and experience further growth.
It's all about the money in the end, and with the money being made by the business only being owed back to our own pension fund it's a perfect circle, says Andrew.
The cherry on top
The inheritance money was on deposit at 2.25% and my pension was going to give me about £100 a week and that doesn't get you very far. It was clear to us as ageing professionals that PLF would work and Morgan Lloyd were very efficient in the way they sorted it out, says Philippa.
The state won't be giving us anything, Andrew adds. The goalposts will continue to move because they will have to. We've seen our parents go through it and they've had the best of it. Baby Boomers won't have the same support that they had and it won't be there for our children either.
The Tarling's retirement plans are ambitious. While Andrews continues to run the pub, Philippa is building a gelato empire –In just its first month, Ecco Gelato proved a huge hit in the affluent Dorset town of Sherborne, with takings already well into the thousands, and the target is three or four outlets.
With a gross margin of more than 80% on turnover, we're looking at strong returns on our investment. We have confidence in our business and we plan to get up to three or four outlets and keep the pub as a place to live.
Most importantly, the whole family is set to benefit according to Andrew.
Our business will grow our pension and the children's inheritance money faster than almost any other investment. Once we've made provision for the kids, we'd like to buy a couple of nice cars and holiday a lot. That may sound a bit selfish, but when you do what we do for a living 24 hours a day, I think we deserve a break.
Get in touch today
01275 379 200